Try Bullfighting on QIANG ZHUANG NIUNIU now!
Classic gameplay and new gameplay experience! Revamped JDB Card Game-QIANG ZHUANG NIUNIU with a revised interface and optimized visual effect. The new, intricately designed graphics will certainly enhance your experience! A new card-combination feature has been added, allowing four players at the table to have an instant showdown of their best cards. Come and try the new QIANG ZHUANG NIUNIU Pro-grade!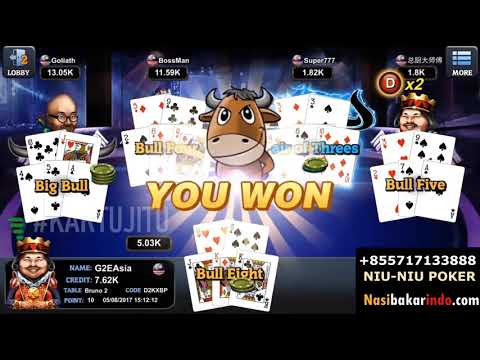 NiuNiu is a very popular card game in China which is played between the player and the dealer which is also known as Chinese BullFighting poker game. The goal of the game is to divide five card hands into two combinations, where the value of either three cards must be a multiple of 10. The value of the other two cards should be as high as possible. Now, the great people in JDB have brought this great game to online with players joining the game automatically. They have launched this game in 2019 with four rooms for players to select. After you click to launch the game, you will get to choose which level of the game room you wanted to enter. There are four rooms by level, newbie, beginner, mid and high level. Each room has a minimum bet from 1 to 30 with a minimum of 4 players in it.
After the game begins, the player will get to choose a multiplier, the highest multiplier will become the dealer for the game. Also the more game credit you own the higher you get to become a dealer.
To determine the winner, the player will have to compare their cards and beat the dealer. Different combinations will have different multipliers from 1x to 4x. Either dealer or player you will have to contribute 5% on your winnings amount to the game supplier. If you feel like changing a room to a higher minimum bet, you can just change it after each round of the game within one click or you choose to stay in the same room and continue for the next round of game.
Although there are a lot of online versions for this type of game, what makes this game unique is the design of the game with an improved visual effect plus a user-friendly interface which allows you to rearrange your card easily for any winning combination. Moreover, you can win with additional combinations according to the paytable. You can also multiply your winning up to 4x by bidding among other players in the beginning of each round of the game.
There is so much more, you have to brace with the details! This game audio on this game is quite relaxing and gives you the feel to continue playing without stress. Meanwhile, this game works well on mobile devices or portable devices as well as desktop. It also supported a wide range of operating systems from iOS to Android and Windows too. Unfortunately, this game is only designed in Simplified Chinese. For those who do not understand Chinese will struggle to play this game. If you are Chinese speaker, you may want to try it with the link below.