Play TREASURE BOWL now and win your reward!
TREASURE BOWL – Released by JDB in the year of 2019, Themed after Chinese ancient magical bowl! Representing treasures in the slot machine.TREASURE BOWL is a 1 line slot with two stages of free spins: 3×3 Reels and Mega Reel. WIth the two stages of free spins, it opens up the chances and allows you to win up to 1800x of your line bet. Getting in Mega Reel will win you a fortune!
Playing in TREASURE BOWL is fun, although it's a 1 line slot game, the game is easy to pick up. You can place your bet with the amount of your choice. Payouts will be multiplied according to the symbol appearing in lines.
Symbols:
Wild – 3 wilds trigger Free Spins game
Golden Ingot – 3 Golden Ingots Pays 50x
Coins Stash – 3 Coins Stash pays 25x
Jade Ring – 3 Jade Ring pays 10x
Gourd – 3 Gourd pays 5x
Coins – 3 Coins pays 2x
In the regular spins wild can also be substituted as all symbols to win.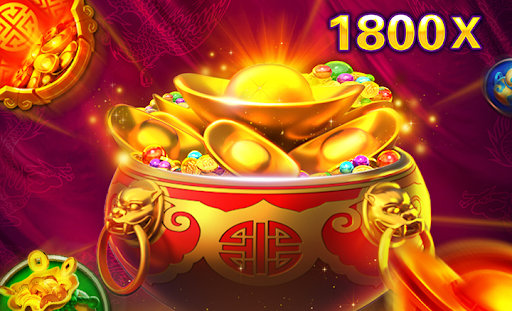 Free Spin bonus stage 1:
If you get 3 wilds on your regular spins, you shall trigger 5 free spins. In the free spin stage, Single line slots evolve into 3×3 reel. In the free spins stages, any rewarding symbol appearing on the reel will be paid and rewarded. You shall earn more spins by triggering wilds in the reel.
If all 9 slots are filled with symbols, you may initiate 1 Free spins bonus of stage 2.
Free Spin bonus stage 2:
When you get into the second stage of the free spins, every symbol turns into a Mega symbol. Whichever symbol you trigger will pay you the rewarding amount, up to 1800x
In the free spins round, each single symbol pays out the exact amount of payout. 
Free Spins bonus stage 2 Mega Symbol Pays extra. 
Free spins bonus stage 2 payout values as below:
Mega Treasure bowl payout 1800x
Mega Golden Ingot payout 450x
Mega Coins Stash payout 225x
Mega Jade Ring payout 90x
Mega Gourd payout 45x
Mega Coins payout 2x
By getting the Mega Treasure bowl in the Free Spins Bonus Stage 2, this pays a maximum multiplier of 1800x. Enjoy the game and your winning by playing it on mobile, tablets, or your desktop. It supports both  IOS, Android and also WINDOWs devices.