Asia Gaming (AG) Always Aim for "Impressive Experience Only"
Asia Gaming (AG Platform) is one of the most imaginative and inventive live game dealer sites.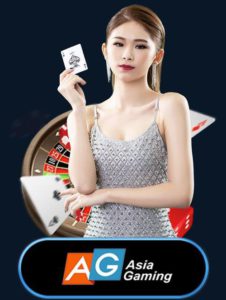 While Asia Gaming was founded in 2012 with a spirit of boldness and creativity, the AG Platform has drawn people's attention and interest quickly. Asia Gaming has been certified for Technical System Testing (TST) and it is valid in First Cagayan and Isle of Man (IOM) which their aim is to provide players to enjoy a fair, justice and reliable gaming experience. The brand has been focused on live dealer games and soon it caught people's attention on their new innovative live casino features, such as, Pre-dealing 6 cards, VIP Private Room, Interactive Bid Baccarat and Revealing Card Baccarat. Especially the VIP Private Room and Revealing Card Baccarat has definitely smashed through traditional-bound and revolutionized online gaming platforms. That is what matches the company motto "Impressive Experience Only".
Players who are searching for real oriental live dealer games will find tons of them at Asia Gaming Lobbies.
Starting with numerous Baccarat variants accessible at standard and VIP tables with loads of inventive features, AG Lobbies is the ideal gambling destination for those players who are happy to feel a bit of Orient throughout the gaming experience. If you would like to go for some western faces, they have launched a new live casino based in Malta which features with European live dealers. 
Recently, they have launched a VJ Hall where you can interact with the dealers not just by chatting, but you can also tip the dealers whenever you feel like it. They have hire Asian web celebrities to be the "Anchor". That's what they call a live dealer. AG have certainly redefined the live casino experience as you were watching some live streaming app like the famous Tik-Tok or Likee. During the game whoever place the most stake will get to "squeeze the card". This function is better to experience on a handheld device. Thanks to the team you can play their game on any portable devices as they are using HTML5. If you are looking for some real VIP treatment, AG Baccarat would be the place for you. You can request to have a private table and enjoy all these exclusive functions like squeeze cards, change the dealer or shuffle the deck whenever you wish to.
Within a few years of being founded, AG has achieved a leading position among Asia's live casino providers. The company aims to provide an innovative gaming experience to their players.