[IPL]- Sanju Samson reveals how Steve Smith got his nickname 
Rajasthan Royals wicketkeeper-batsman Sanju Samson commented on his time with the Indian team and how he is looking at the likes of MS Dhoni, Steve Smith, and Jos Buttler to better his own batting.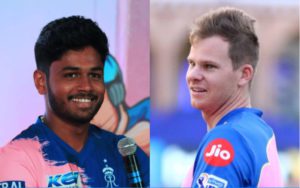 He has flattered to deceive on numerous occasions. Still, highly respected wicketkeeper-batsman Sanju Samson says he has learned to acknowledge his mistakes in search of the positive temperament possessed by former India captain Mahendra Singh Dhoni.
The 25-year-old from Kerala has always been spoken about by the likes of Rahul Dravid and Gautam Gambhir. Still, with only four T20 Internationals in his last five years, he has not converted into an international success.
"I've learned to recognize and focus more on my strengths and (be more) tolerate (of) the mistakes. I'm trying to contribute to the team and strive to get the team across the line. I'm learning and concentrating and managing my emotions when batting like MS Dhoni," Samson said during a Rajasthan Royals podcast.
He made a comeback in India's T20 side recently, and it was a worthwhile experience for him.
"It was nice to be part of the Indian team again. It was a wonderful experience to be a member of one of the world's best teams, surrounded by players like Virat Bhai and Rohit Bhai," Samson said.
Samson was sent out to bat in the Super Over in one of the New Zealand games, something that made him feel needed in the Indian set-up.
"It was a great feeling to have players like Virat Bhai, and Rohit Bhai trusted to go out there and bat in the critical moments. It's a great feeling when the manager and the players find you to be a winner of the match."
Samson revealed, on a lighter note, that he refers to Steve Smith as "chachu" (uncle), after Brad Hodge began calling him by that name once.
"I have a very good friendship with 'Chachu' Steve Smith, he's one of the world's best cricket brains, and we all enjoy playing under him a lot."
Asked what the nickname's back story is, Samson said: "It started with Brad Hodge, he used to call Smith 'Chachu,' then when Hodgy left, I started calling Smith 'Chachu.' In response, Smith also started calling me 'Chachu.'
Though Dhoni is his hero, he also loves to watch the Royals' Jos Buttler and makes notes on how the star Englishman is preparing for games.
"Especially because he is also a wicketkeeper-batsman, I observe Jos. He always works on his skill and his game and never sits idle.
"Either he is focusing on his keeping, playing in the pool, or running around the field. I enjoy watching and learning how he thinks and practices before a game as a keeper."